The Academy for G.O.D. Serves up Fresh Organic Produce in School Lunches
The nutritional value of school lunch has become an increasingly hot topic in the United States in recent years. With more and more reports on the low quality of food production in our nation, concerned parents and nutrition advocates are putting pressure on the government to increase the standards regarding school meals.
Now in our third year at The Academy for G.O.D. we have also had to make decisions regarding school lunch options for our students. With between 70-80 children eating lunch each day, a full-service kitchen, and parents volunteering for lunch shifts, we don't have the quality or sanitation issues that often plague public school lunch operations. "The smaller student body makes it easier for us to produce quality meals," said Breann Bennecker, manager of the school lunch program at the Academy. These quality meals include organic produce, grass-fed beef, organic chicken, eggs and more.
In fact, the lunch program has been able to incorporate the students' education into their lunch. As the students participate in gardening classes, they are able to see first-hand the process from growing a carrot from the ground to seeing it on their tray during lunch. Students at the school are getting a picture into the full cycle of food production, from planting, to watering, to harvesting, to eating, to composting, to placing the compost back on the soil. As headmaster Gregg Garner notes, "When you are connected to growing food, it is much more difficult to throw it away."
Bennecker explains, "We are trying to introduce healthy food to the children at a young age so they grow accustomed to eating it. There is incentive in them seeing the process of working in the garden and then eating what they have grown." She does recognize that adjusting a child's palate is a process. As children are encouraged that "colorful plates are healthy plates," they are trying more and different foods. It's working. Children are going home to their parents with great news: they LIKE vegetables!
Bennecker says that the Academy's approach to children's meals has surprised workers from the government program. "Because we don't buy from bulk industrial sources like most other school food authorities do, and because our items are all made from scratch or fresh, local produce, they were having to figure out how to categorize and label our foods. For instance, they didn't know how to categorize hummus because it wasn't in their system. Or, instead of frozen fries that have the ounces printed on the bag, we are making them from potatoes, from the garden." The program representatives were very excited to introduce strawberry milk options to Bennecker for breakfast. She refused them outright, along with the powdered donuts and pre-syruped pancakes. When asked what her breakfast would consist of, she responded simply, "an organic grain item, a piece of fruit, and milk."
Giving parents another avenue where they can volunteer has also been an added bonus to the lunch program. Parents are becoming involved in their children's health and naturally want to ensure healthy food options are available in the home. "We are preparing meals from scratch and a few parents are learning to cook healthier meals for their children that they can implement at home," said Bennecker.
But the real test is, do the students like it? We asked them. Older Elementary student Elliot Davis tells us about the meals: "They're really good, they look so colorful. They are really flavorful, they have the freshest vegetables from the garden. My favorite meal so far has been the taco salad - it had these crispy bell peppers and beans cooked just right, with slices of oranges on the side, and tomatoes right from the garden." When asked how school lunch compared to what her mom used to pack her, she replied: "I like this lunch better because there's something different every day. I don't have to eat apple sauce every day until it runs out. I can have a change of food everyday and have it be colorful and interesting."

Ajay Maute, a kindergartner at the Academy, had one of our favorite responses to the school lunch program: "My favorite food is all the food they make at the capeteria."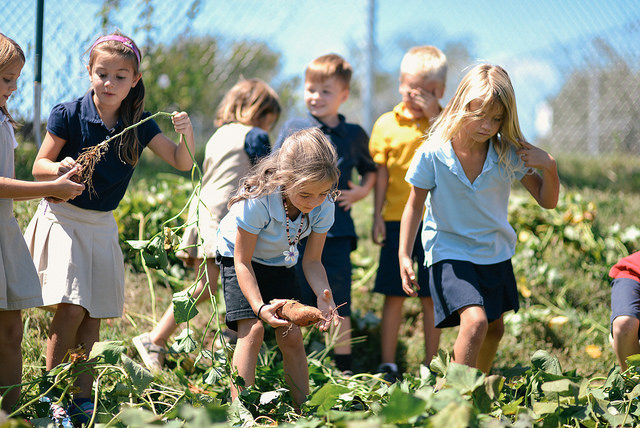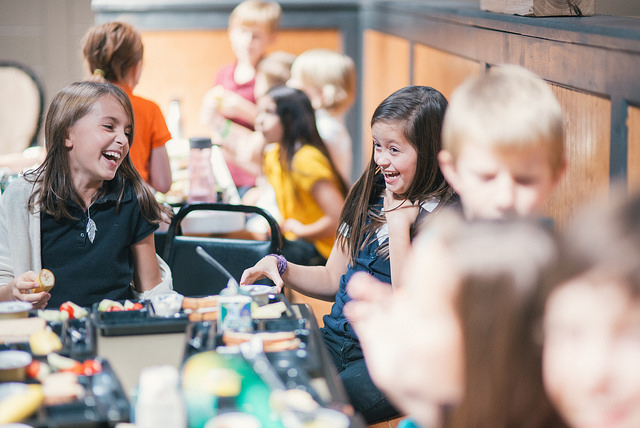 Written by Brett Madron and Laurie Kagay